Download a version made by Catholics for Catholics. Choose our Bible and carry it everywhere you go.
Enjoy this classical version of the Bible: Douay-Rheims Challoner Revision, the Catholic edition still used by Catholics to this very day.
This catholic edition of the Bible presents the books in the traditional Catholic book order, including the collection of Deuterocanonical books that the Protestant Bibles omit. (Tobias, Judith, Wisdom, Ecclesiasticus, Baruch, 1 and 2 Machabees)
Now you can read the complete version of the Holy Word!
Even without being connected to the Internet, you can read or listen to the Bible. Download the app and use it later offline.
In addition to free downloading and offline reading, you can enjoy:
– Audio Bible to listen each chapter or verse
– Super-simple interface
– You can bookmark and save verses
– Make a list of favorites and add notes
– Share them on Facebook, Twitter and other social media sites as well
– Ability to change the font size of the text
– Switch to night mode and the display is much easier on the eyes
– The app helps you to return to the last verse read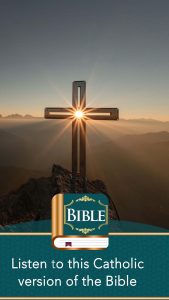 The Bible version Douay Rheims is an excellent translation made by a commission of French scholars of the English College in Douai, France.
In competition with the King James Version and other Bibles for English readers coming out during the Reformation, the Catholics decided they needed a new Catholic version, an English translation of the Vulgate for Catholics.
The New Testament was published in Rheims, France in 1582, and the Old Testament was published in 1609 in Douai.
This translation was replaced with a revision made by the Roman Catholic bishop Richard Challoner in 1752.
Here is the selection of books in the Catholic book order recognized by the Roman Catholic Church:
Old Testament: Genesis, Exodus, Leviticus, Numbers, Deuteronomy, Joshua, Judges, Ruth, 1 Samuel, 2 Samuel, 1 Kings, 2 Kings, 1 Chronicles, 2 Chronicles, Ezra, Nehemiah, Esther, Job, Psalms, Proverbs, Ecclesiastes, Song of Solomon, Isaiah, Jeremiah, Lamentations, Ezekiel, Daniel, Hosea, Joel, Amos, Obadiah, Jonah, Micah, Nahum, Habakkuk, Zephaniah, Haggai, Zechariah, Malachi, Tobit, Judith, Wisdom of Solomon, Sirach, Baruch, 1 Maccabees, 2 Maccabees.
New Testament: Matthew, Mark, Luke, John, Acts, Romans, 1 Corinthians, 2 Corinthians, Galatians, Ephesians, Philippians, Colossians, 1 Thessalonians, 2 Thessalonians, 1 Timothy, 2 Timothy, Titus, Philemon, Hebrews, James, 1 Peter, 2 Peter, 1 John, 2 John, 3 John, Jude, Revelation